Welcome to the website of the Parish of Seaham & Dawdon made up of three Churches: S John the Evangelist Seaham Harbour, All Saints Deneside and S Mary the Virgin Seaham. All our Churches provide idyllic settings and serene atmosphere for private prayer, public worship, community events and those special life events and celebrations. Do come and visit and you will receive a warm welcome.

THE PARISH OF SEAHAM & DAWDON
THE CHURCH OF ENGLAND
S JOHNS SEAHAM HARBOUR: ALL SAINTS DENESIDE: S MARY THE VIRGIN SEAHAM
A Forward in Faith Parish in the Diocese of Durham
in the Society of S Wilfred & S Hilda and in the Episcopal Care of the Bishop of Beverley.
St Johns is situated at the head of Church Street in the heart of Seaham Harbour the historical and beautiful Parish Church which is open daily for worship and events.
All Saints Deneside, the Mission Church of S Johns just off the Avenue (Exeter Ave) on the Deneside Estate, a contemporary dual purpose Church building built just over 50 years ago.
S Mary the Virgin Seaham (Old Seaham), the ancient Parish Church of Seaham dating back to the 7th/8th century.  One of the 20 oldest Churches in England situated on the headland next to Seaham Hall.
The Parish is grounded in the Catholic faith of The Church of England.  Worship is varied on Sundays at S Johns at 11.00 am The Parish Mass is sung with full Catholic ceremonial. At All Saints a similar but slightly less formal Mass is sung at 9.30am both according to the Roman Rite.  At S Mary's Mass is sung on the first Sunday of each month at 11.00 am, this and all services at S Mary's are according to the 1662 Book of Common Prayer.
Mass is celebrated in the Parish everyday of every week and this is at the heart of our Mission and ministry in the community of Seaham and Dawdon, we are proud to serve.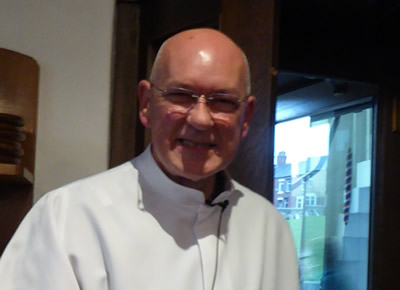 The Parish priest, Father Paul Kennedy SSC  Tel: 0191 3665496
SAFEGUARDING
Seaham & Dawson Parish is proud to be a part of the Diocese of Durham in the Church of England, whose Archbishops, Bishops, clergy and leaders are absolutely committed to safeguarding as an integral part of the life and ministry of the Church
Safeguarding means the action the Church takes to promote a safer culture. This means we will promote the welfare of children, young people and adults, work to prevent abuse from occurring, seek to protect those that are at risk of being abused and respond well to those that have been abused. We will take care to identify where a person may present a risk to others and offer support to them whilst taking steps to mitigate such risks.
The Church of England affirms the 'Whole Church' approach to safeguarding. This approach encompasses a commitment to consistent policy and practise across all Church bodies, Church Officers and that everyone associated with the Church, who comes into contact with children, young people and adults, has a role to play.
The Church will take appropriate steps to maintain a safer environment for all and to practice fully and positively Christ's Ministry towards children, young people and adults: to respond sensitively and compassionately to their needs in order to help them safe from harm.
Safeguarding is the responsibility of everyone here at Seaham and Dawdon Parish. Concerns: Benefice & St Mary's Post Vacant – until filled Vicar/Church – Wardens St John's/All Saints:
Father Paul Kennedy SSC  – 0191 366 5496
Father Chris Collins – 0191 581 7186
The Diocesan Safeguarding Advisor is Beth Miller who can be contacted on 07968034075 Beth.miller@durham.anglican.org.uk
if there is immediate risk or danger, please contact the police on 999.
Two very useful links:
More information on the Church of England's National Safeguarding can be found here:
www.churchofengland.org/safeguarding
more information about safeguarding in the Diocese of Durham can be found here:
https://dioceseofdurham.org.uk/safeguarding
Below are details of our Service times:
DAILY MASS
S Johns
All Saints                                           S Marys
Monday
09.30am
Tuesday
6.00pm
Wednesday
09:30am
Thursday
09:30am
Friday
09.30am
Saturday
09:30am
                                                                  10.30am
Sunday
11.00an Solemn Mass
09:30am…………. Sung Mass……….   11.00am 1st Sun
Christenings (Holy Baptism) Sundays 12.30pm S Johns & All Saints Saturdays 11.15am S Marys by arrangement.

Confessions, anointing and home communion by arrangement with the Priests. Morning and Evening Prayer Daily as announced.

Evensong & Benediction Sundays 5pm at S Johns as announced. Festivals Solemn Mass as announced.  From Easter 2017 Sunday School at S Johns Sundays 11am.